BASIC INFO
475 Field Communicator Emerson 475FP1EKLUGMTAS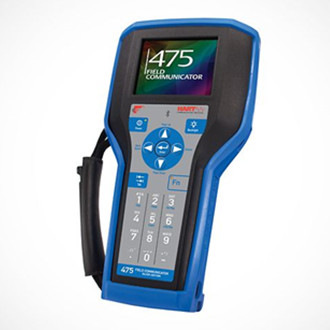 Simplify your work in the field with the the intrinsically safe, rugged 475 Field Communicator. This built-for-purpose handheld communicator delivers universal support for HART and Foundation Fieldbus devices, a full-color graphical user interface, and a long-lasting Lithium-Ion power module. It is designed to withstand the knocks and shocks from normal use in the field.
PROCESSOR AND MEMORY SPECIFICATIONS
Microprocessor: 80 MHz, max 133 MHz Hitachi® SH3
Memory: Internal Flash, 32 MB
System Card, 1 GB Secure Digital card or higher
RAM, 32 MB
PHYSICAL SPECIFICATIONS
Weight: Approximately 1.65 lb (750 grams) includes battery
Display: 3.5" diagonal, 1/4 VGA (240 by 320 pixels) color touch screen
Hard-coated surface
Dimensions approximately 2.81" x 2.11" (71.5 mm x 53.6 mm)
Keypad: The keypad consists of the following:
• A Power key to turn on and off the 475 or to put it in standby
• A Backlight key to adjust the intensity of the light on the screen
• Four navigation (arrow) keys to select, open, and back out of menu items
• An Enter key to open menu items from the Field Communicator Main Menu or Settings menu, and select any highlighted button
• A Tab key to move between buttons or fields on a window
• A Function key that enables alternate functionality indicated by the blue text near the keys
• Alphanumeric keys for entering data
USAGE SPECIFICATIONS
Temperature limits +14°F to +122°F (-10°C to +50°C) 0% to 95%RH (non-condensing) for +32°F to +122°F (0°C to +50°C)
Storage with batteries -4°F to 131°F (-20°C to +55°C) for less than 1 month
Storage without batteries -4°F to +140°F (-20°C to +60°C)
Enclosure rating IP51 (front)
Shock Passes the 1-meter drop test onto concrete
General guidelines
• Only use new, original parts.
• Do not recharge the battery in hazardous areas.
• Have repairs done by only qualified personnel.
• Charge or power using only the Field Communicator power supply/charger.

CONNECTION SPECIFICATIONS
HART and fieldbus communication terminals
Three 4mm banana plugs (one common terminal to both HART and FOUNDATION fieldbus.)

Connection types
IrDA port
± 15 degrees recommended maximum angle between the 475 interface and adapter or PC.
18 in. recommended maximum distance between the 475 interface and adapter or PC.

Bluetooth interface
The Bluetooth Interface is a licensed option for the 475 Field Communicator. If your 475 is not licensed for Bluetooth, it does not have a Bluetooth radio.To use Bluetooth you need an approved adapter using the Windows Bluetooth software and drivers (stack) included with Windows XP Professional Service Pack 2 or 3, Windows Vista Business Service Pack 1, or Windows 7 Professional. The adapter should be plug-and-play if no other Bluetooth software or drivers were installed on your PC. The Easy Upgrade Utility cannot communicate with an adapter using third-party drivers. See www.fieldcommunicator.com or the readme file for more information. 30 feet (10 meters) recommended maximum distance between the 475 and a Bluetooth adapter attached to a PC.

Card reader
Only supported card readers can be used with the System Card. Unsupported card readers may corrupt files. See the readme file on your Resource CD or DVD or www.fieldcommunicator.com for the list of supported card readers. The card reader can be used only with the Field Communicator Easy Upgrade Utility.
Typical HART Model Number: 475 H P 1 E KL U GMT
Typical HART/Fieldbus Model Number: 475 F P 1 E KL U GMT
Model selection:
475HP1ENAUGMTS
475HP1ENAUGMTA
475HP1ENAUGMTAS
475HP1EKL9GM9AS
475HP1EKL9GMT
475HP1EKL9GMTS
475HP1EKL9GMTA
475HP1EKL9GMTAS
475HP1EKLUGMT
475HP1EKLUGMTS
475HP1EKLUGMTA
475HP1EKLUGMTAS
475FP9ENAUGM9
475FP9ENAUGMT
475FP9ENAUGMTS
475FP1EKLUGM9S
475FP1EKLUGM9A
475FP1EKLUGM9AS
475FP1EKLUGMT
475FP1EKLUGMTS
475FP1EKLUGMTA
475FP1EKLUGMTAS
-----------------------------------
Lily Li
HONGKONG XIEYUAN TECH CO., LIMITED
|T: 86-027-85581877 |F: 86-027-85309780 |Mail:lily@whxyauto.com |
Ad: 7-A16,Caishen Commercial Plaza,Hankou Railway Station,Wuhan, Hubei, China
Web: www.hkxytech.com