BASIC INFO
BW Clip Real Time portable gas detector BWC3R-H H2S 10-15 W



BW Clip Real Time portable gas detector with 3 year maintenance free for Hydrogen Sulfide (H2S). Configurables Low and high alarm (ppm). One-button operation. Designed for harsh environments and extreme temperatures. Includes a real-time gas level display. IP66 / IP67. UL approved for Class I Div 1. ATEX, CE, EAC Ex and IECEx approved.
Part# with Options: BWC3R-H

The most user-friendly, reliable and cost-effective way to ensure safety, compliance and productivity.
The BW Clip single-gas detector is your everyday companion for hazardous environments. It operates up to three years maintenance-free: Just turn on the device and it runs continuously — no need for calibration, sensor replacement, battery replacement or battery charging. That means great reliability and no downtime.
Plus, with the two-year BW Clip for H2S or CO, you can put the device in a hibernation case when you're not using it for a week or more — and extend its life by that period of time.
Compatible with both the MicroDock II and the IntelliDoX instrument management systems, the BW Clip is engineered to the highest standards of quality and reliability, keeping you safe and compliant.


Use our unique advanced technology for safety, compliance and productivity.
Surecell: unique dual reservoir sensor design dramatically improves instrument performance, response time, and longevity compared to traditional electrochemical sensors and consistently delivers reliable instrument performance under the harshest environmental conditions
Reflex Technology : advanced automated self-test function routinely checks the operating condition of the sensor to increase safety, up-time, and overall worker confidence
IntelliDoX: instrument management system

The quickest bump test in the industry
Configuration of alarm set points and more
Performing different tests for up to five BW Clip detectors at once — for maximum productivity
Easy and accurate record-keeping

BW Clip Standard Features:
Maintenance-free: no sensor or battery changes necessary
Compact, lightweight design with one-button operation
Designed for a range of harsh environments and extreme temperatures
Hibernation mode with case accessory or IntelliDoX
Automated self-test of battery, sensor and electronics
Wide-angle flash, which alerts simultaneously with audible and vibrating alarm
Automatic logging of the 35 most recent gas events and bump test results
Compatible with MicroDock II and Fleet Manager II software
Affordable, with low cost of ownership
BW Clip Specifications
Size
1.6 x 2.0 x 3.4 in. / 4.1 x 5.0 x 8.7 cm
Weight
3.2 oz. / 92 g
Temperature
H2S: -40 to +122°F / -40 to +50°C
CO: -22 to +122°F / -30 to +50°C
O2: -4 to +122°F / -20 to +50°C
SO2: -22 to +122°F / -30 to +50°C
Humidity
5% - 95% RH (non-condensing)
Alarms
Visual, vibrating, audible (95 dB) • Low, High
Tests
Activated detectors automatically perform one internal diagnostic test every 24 hours.
Typical battery life
Two years (H2S, CO, O2 or SO2) or three years (H2S or CO)
Event logging
35 most recent events
Ingress Protection
IP 66/67
Certifications and approvals
UL: Class I, Div. 1, Gr. A, B, C, D
Class I, Zone 0 , Gr. IIC
ATEX: CE Ex 0539 II 1G
Ex ia IIC T4 Ga IP66/67
DEMKO 14 ATEX 1356
IECEx: Ex ia IIC T4 Ga IP66/67
IECEx UL 14.0063
CE: European Conformit
EAC Ex: CU TR Ex
Warranty
Two or three years from activation (given normal operation), plus one year shelf life (6 months for O2). Up to three years for two-year H2S and CO detectors when used with the hibernation feature, limited to 24 months of detector operation.
Popular Accessories

From power options to carrying cases, we have a multitude of accessory items to go with your monitor.
IntelliDoX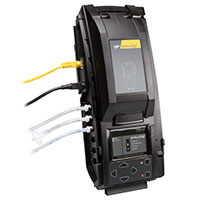 DX-CLIP, DX-CLIP4, DX-MC & DX-ENBL-NA
The IntelliDoX system combines smart docking modules and Fleet Manager II software to provide automated instrument management for BW Clip Series, BW Clip4, GasAlertMicroClip Series and ConneX1 gas detectors - helping you drive productivity, reliability and efficiency.

BW Clip
BWC2-H
BWC2-H510
BWC2-H515
BWC2-M
BWC2-M50200
BWC2-X
BWC2-S
BWC2-S24
BWC2-H-B50
BWC3-H
BWC3-M
BWC2R-M
BWC2R-M1020
BWC2R-M1025
BWC2R-M2050
BWC2R-M25100
BWC2R-M2550
BWC2R-M30200
BWC2R-M35100
BWC2R-M50200
BWC2R-H
BWC2R-H515
BWC2R-H510
BWC2R-H7
BWC2R-X
BWC2R-X19.522
BWC2R-X-RU
BWC2R-S
BWC2R-S24
BWC3R-M
BWC3R-M2050
BWC3R-H
-----------------------------------
Lily Li
HONGKONG XIEYUAN TECH CO., LIMITED
|T: 86-027-85581877 |F: 86-027-85309780 |Mail:lily@whxyauto.com |
Ad: 7-A16,Caishen Commercial Plaza,Hankou Railway Station,Wuhan, Hubei, China
Web: www.hkxytech.com