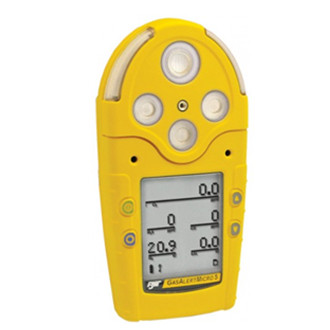 BASIC INFO
BW M5PID-XWQY-R-D-D-Y-N-00 GasAlertMicro 5 Series Multi-Gas Detectors

Overview

BW GasAlertMicro 5 PID portable gas detector Rechargeable Version for combustible 0-100% LEL (Lower Explosive Limit) , 0-30.0% O2 (Oxygen), 0-500 ppm H2S (Hydrogen Sulfide), 0-999 ppm CO (Carbon Monoxide) and 0-1000 ppm VOCs (Volatile organic compounds). Lithium polymer battery and pump, yellow housing
Benefits
Simultaneously monitor and display up to fi ve atmospheric hazards with the GasAlertMicro 5. Adaptable to a variety of applications, the GasAlertMicro 5 has an extensive selection of user-settable fi eld options and is available as either a standard toxic gas model, a PID model for the detection VOCs, or an IR model for CO2 detection. Use the passcode function to prevent unauthorized modifi cations of the instrument's settings. Compatible with BW's MicroDock II automatic test and calibration system, the GasAlertMicro 5 is unparalleled in its versatility, performance and overall value.



GasAlertMicro 5 with integrally Optional rechargeable battery and slip-in cradle charger
attached pump
Measure up to five atmospheric hazards concurrently
Fully customizable to suit any application
Rapidly switch from diffusion mode, to the optional integrated pump in the field
Photoionization sensor available for volatile organic compounds (VOCs) detection.
Industrial Applications
| | |
| --- | --- |
| Industry or Application | Sources of VOC Hazards |
| Confined Space Entry | Respiration and aerobic bacterial decomposition |
| Hazmat / Homeland Security | Detect fl ammables not detected by LEL sensor (diesel, gasoline vapor, turpentine, etc) |
| Industrial Hygiene and Confined Space | Wide number of potential hazards (benzene, diesel, ethanol, toluene, etc.) dependant on industry |
| Airlines (wing-tank entry) | Jet fuel not detectable by LEL sensor, PID required |
| Landfills | Decomposing organic matter, emission of chemical compounds |
| Oil and Gas | By-products of refi ning processes |
| Chemical Plants | Number of potential hazards dependant on product and process of manufacturing |
Standard features of BW products
Continuous LCD shows real-time gas concentrations
Water-resistant
Automatic calibration procedure; compatible with BW MicroDock II automatic test and calibration station
Full function self-test of sensor, battery status, circuit integrity and audible/visual alarms on start up
Bright wide-angled visual alarm bars
Built-in concussion-proof boot
Additional GasAlertMicro 5 Features
Integral motorized pump option for remote sampling
Equipped with internal vibrating alarm for high noise areas
Two power options: AA alkaline or rechargeable hotswappable battery packs
Multi-language support in English, French, German, Spanish and Portuguese
Standard Package Contents
Detector complete with specified sensor(s), stainless steel alligator clip and concussion-proof housing
Rechargeable battery pack or alkaline pack with three AA batteries
Charging adaptor (with rechargeable battery option)
Screwdriver
Calibration/test adaptor and hose
Manual
Multi-language CD manual
Gas
Measuring Range (ppm)
Default Resolution (ppm)
High Resolution (ppm)
O2
0-30.0%
0.1%
N/A
CO
0-999
1.0
N/A
H2S
0-500
1.0
0.1
VOCs
0-1000
1
N/A
LEL
0-100% LEL
0-5% v/v
1%
0.1%
N/A
Specifications
Auto zero
Yes
Calibration
Automatic
Backlight
Standard Mode: low light (auto); alarm condition (auto); reactivation on demand
Alarm Only Mode: alarm condition (auto); reactivation on demand
Stealth Mode: backlight inactive; audible and visual alarms silenced
Sensor
Plug-in, electrochemical cell (toxic and oxygen); catalytic (LEL); Photoionization detector (PID) with 10.6 eV lamp for volatile organic compounds (VOCs)
User field options
Confidence beep, set STEL period, force calibration on start-up, enable / disable sensor, pass code protection, latching alarms, span level, passed calibration user-lockout option, "SAFE" display function, stealth mode, fast pump, oxygen auto-cal on start-up, alarm only backlight mode, combustible gas measurement (% LEL or % by volume methane), LCD language option, STEL calculation choice, TWA calculation choice, combustible correction factor options, user-settable calibration gas level, clock
ALARM INDICATORS
Clearly advises alarm conditions with audible, visual, and vibrator alarms
Visual alarms
Two flashing alarm bars visible from all angles
LCD indicates gas present and alarm levels encountered
Audible alarm
Typically 95 dB at 1 ft. / 30 cm variable pulsed audible alarm
Vibrator alarm
Pulses warning in gas alarm conditions, or for any status alarms
Status alarms
Low battery, over range, multiple gas / pump and failed or missing sensor
ALARM LEVELS
Instantaneous Low Alarm for all gases; Instantaneous High Alarm for all gases; TWA (time-weighted average) and STEL (short-term exposure limit) for toxics
LCD
Continuous, alphanumeric gas readout and status display advises
Gas concentration
Simultaneously and continuously displays gas concentration(s) for all sensors(in ppm, % LEL, or % v/v)
Alarm setpoints
Displayed on activation and on demand
Calibration due date
In days remaining (on start-up)
Peak (max)/STEL/TWA ppm or %
Records exposures and displays on demand
Clock
Real-time clock setting displayed on start-up
TESTS
Full function self-test
Sensor integrity, circuitry, battery and audible/visual alarms on activation
Battery
Continuous
GENERAL SPECIFICATIONS
Rugged, composite material; two-shot molded polymer case with integral anti-shock boot
Operating temperature
-14 to +104°F / -10 to +40°C
Humidity
0 - 95% RH (non-condensing)
EMI/RFI
Complies with EMC Directive 89/336/EEC
Protection
Highly water resistant and dust proof housing
Battery Options
23 hours on three AA alkaline cells or 20 hours on rechargeable "hot-swappable" battery pack when equipped with oxygen, combustible, TwinTox (H2S/CO) and one additional toxic sensor
Size
5.7 x 2.9 x 1.5 in. / 14.5 x 7.4 x 3.8 cm
Weight
13.1 oz. / 370 g
WARRANTY
Full 2-year warranty including all sensors (1 year NH3 sensor)
DATALOGGER OPTIONS
User-downloadable datalogger
Data recorder
All events and occurrences (calibration zero adjustment, calibration span adjustment, gas readings, TWA, STEL, alarm condition, failures detected by the microprocessor).
Sampling rate
Factory set at 5-second intervals and user-settable from 1 to 127-second intervals
Storage
2 months of continuous data at 5 second intervals via 32 MB Flash MMC card (64 MB and 128 MB cards also available); when full, the wrap-around feature replaces oldest data with most recent data
Pump
Optional; Sample from up to 66ft. / 20m
GasAlertMicro 5 PID
M5PID-XWQY-A-P-D-Y-N-00
M5PID-XWQY-R-P-D-Y-N-00
M5PID-XWQ0-A-P-D-Y-N-00
M5PID-XWQ0-R-P-D-Y-N-00
M5PID-00Q0-A-P-D-Y-N-00
M5PID-00Q0-R-P-D-Y-N-00
M5PID-XWQY-A-P-D-B-N-00
M5PID-XWQY-R-P-D-B-N-00
M5PID-XWQ0-A-P-D-B-N-00
M5PID-XWQ0-R-P-D-B-N-00
M5PID-00Q0-A-P-D-B-N-00
M5PID-00Q0-R-P-D-B-N-00
----------------------------
Lily Li
HONGKONG XIEYUAN TECH CO., LIMITED
|T: 86-027-85581877 |F: 86-027-85309780 |Mail:lily@whxyauto.com |
Ad: 7-A16,Caishen Commercial Plaza,Hankou Railway Station,Wuhan, Hubei, China
Web: www.hkxytech.com