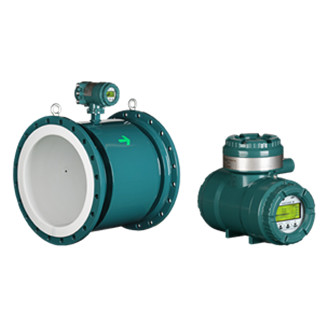 BASIC INFO
Yokogawa ADMAG AXW TI series electromagnetic Magnetic Flowmeters
The ADMAG Total Insight(TI) series ADMAG AXW adopts the "Total Insight" concept and totally support the product life cycle.
The ADMAG TI series AXW electromagnetic flowmeter is a high-quality and highly reliable product developed based on years of experience and achievement, such as enhancement of application by our proprietary dual
frequency excitation method.
The AXW is ideal for general industrial process lines and water supply/sewage applications. With outstanding reliability and ease of operation and maintenance, developed on decades of field-proven experience, the AXW will increase your benefits while reducing total cost of ownership.
Diameter: 25mm to 1800mm (1 to 72 in.)
Liner materials: PTFE, Variety of rubbers
Accuracy: ± 0.35% of rate
For water supply/sewage applications and general industrial process lines
Features: ADMAG AXW Magnetic Flowmeters
Dependable Large Size
Yokogawa ADMAG AXW Magnetic Flowmeters
· Reliability
Focusing the design of ADMAG AXW on measuring water and water-based liquids, the specifications are simplified and shaped up from our conventional large size meters.
ADMAG AXW provides reliable measurement for water applications.
· Robustness
Stable and ceaseless measurement is essential for water applications.
It has been manufacturing large size meters for more than half a century.
ADMAG AXW inherits our technical knowledge and know-how on such as materials, thickness of tubing and lay length.
· Versatility
ADMAG AXW covers versatile applications in every industry and environment.
Liner material : Fluorocarbon PTFE, Natural hard rubber, Natural soft rubber, and Polyurethane rubber
Flange connection : ASME, AWWA, EN, JIS and AS
· Combined Converter
Nominal Pipe Size

500 to 1800 mm (20 to 72 inch) (General-purpose / Submersible)

Power Supply

100 to 240 V AC or 100 to 120 V DC, 24 V AC / DC [ combined with AXFA11 ]

Output Signals

One current output, One pulse output, One alarm output, Two status outputs [ combined with AXFA11 ]

Fluid Temperature

-10 to +120 deg.C (+14 to +248 deg.F) [ depends on model type ]

Ambient Temperature

-10 to +60 deg.C (+14 to +140 deg.F) [ depends on model type ]

Accuracy

±0.35% of rate
±0.5% of rate
[ depends on model type ]

Fluid Conductivity

20 μS /cm or larger [ depends on model type ]

Lining Material

Fluorocarbon PTFE
Natural hard rubber
Natural soft rubber
Polyurethane rubber

Electrode Material

JIS SUS316L (AISI 316L SS Equivalent) Hastelloy C276 Equivalent

Process Connection

ASME, AWWA, EN, JIS and AS
--------------
-----------------------------------
Lily Li
HONGKONG XIEYUAN TECH CO., LIMITED
|T: 86-027-85581877 |F: 86-027-85309780 |Mail:lily@whxyauto.com |
Ad: 7-A16,Caishen Commercial Plaza,Hankou Railway Station,Wuhan, Hubei, China
Web: www.hkxytech.com